ZB-B standard extrusion melt pump.pdf
ZB-B Series Standard Extrusion Melt Pump:
ZB-B series standard melt pumps are mainly used for extruder or pressurization, stabilizing flow and transportation of medium or high viscosity polymer. This series of extrusion melt pump adopts electrical heating, and applies to PS, PP, PET, PVC, PC, PMMA, PA, ABS, PE-LLD, etc.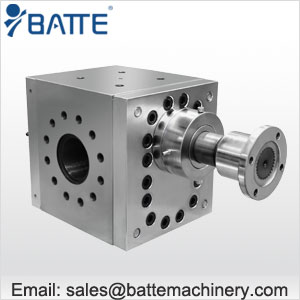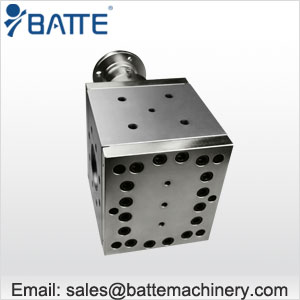 Technical Parameter of ZB-B standard extrusion melt pump:
◆Material for Melt Pump Body: High temperature tool steel or chrome-nickel steel
◆Material for Gear: High temperature tool steel or nitrided steel
◆Material for Sliding Bearing: High temperature tool steel
◆Shaft Sealing: Spiral sealing or packing sealing spiral and packing sealing or other combined sealing;
◆Heating System: Electrical rod heating
◆Model/Volume Range: 0.5CC - 2500CC, 0.5cm3/rev - 2500cm3/rev

Operating Parameter of standard melt pumps:
◆Theory: Positive Displacement Gear Pump
◆Structure: Gear Pump
◆Usage: Plastic, Rubber Pump and Fiber
◆Power: Electric or Oil
◆Fuel: No Need
◆Pressure: High Pressure
◆Volume Range: 0.5CC - 3200CC
◆Viscosity: ≤40000 Pa.s
◆Working Temperature: ≤400°C (750°F)
◆Cleaning Temperature: ≤450°C (850°F)
◆Outlet Pressure: 40MPa(6000psi)
◆Differential Pressure: ≤25Mpa

Application of Batte melt pumps:
◆Polymer extrusion molding, such as granulation, film, pipe, plate, sheet, etc;
◆High-viscosity materials such as PC, PMMA, ABS, HIPS, PET, PVB, PS, PP, PA, PE, PVA .etc;
◆Rubber, asphalt, paint, adhesives, coatings, lubricants, polyalcohol, non-particulate impurities;
◆Polyester for cotton-fiber, polypropylene and other chemical fiber melt.
Specifications and Drawing of ZB-B standard extrusion melt pump:
| | | | | |
| --- | --- | --- | --- | --- |
| Type | CC/Rev | Capacity (L/H) | Heating power (kw) | Driven system (km) |
| ZB-0.2 | 0.2 | 0.1-0.6 | 0.5 | 0.37 |
| ZB-1 | 1 | 0.5-3 | 1 | 0.5 |
| ZB-2 | 2 | 1-6 | 1 | 0.75 |
| ZB-5 | 5 | 2.5-15 | 1 | 1.1 |
| ZB-10 | 10 | 5-30 | 1 | 1.5 |
| ZB-20 | 20 | 10-60 | 2 | 2.2 |
| ZB-31.5 | 31.5 | 15-90 | 2 | 3 |
| ZB-50 | 50 | 25-150 | 3 | 4 |
| ZB-100 | 100 | 50-300 | 4 | 5.5 |
| ZB-150 | 150 | 75-450 | 5 | 7.5 |
| ZB-200 | 200 | 100-600 | 6 | 11 |
| ZB-250 | 250 | 125-750 | 8 | 15 |
| ZB-315 | 315 | 150-900 | 8 | 18.5 |
| ZB-500 | 500 | 250-1500 | 12 | 22 |
| ZB-800 | 800 | 400-2400 | 15 | 30 |
| ZB-1200 | 1200 | 600-3600 | 20 | 37 |
| ZB-2500 | 2500 | 1300-7500 | 24 | 45 |
| ZB-3200 | 3200 | 1600-9600 | 24 | 55 |
| ZB-6200 | 6200 | 3000-18000 | 30 | 75 |
| | | |
| --- | --- | --- |
| Type | CC/Rev | Capacity (L/H) |
| ZB-0.2 | 0.2 | 0.1-0.6 |
| ZB-1 | 1 | 0.5-3 |
| ZB-2 | 2 | 1-6 |
| ZB-5 | 5 | 2.5-15 |
| ZB-10 | 10 | 5-30 |
| ZB-20 | 20 | 10-60 |
| ZB-31.5 | 31.5 | 15-90 |
| ZB-50 | 50 | 25-150 |
| ZB-100 | 100 | 50-300 |
| ZB-150 | 150 | 75-450 |
| ZB-200 | 200 | 100-600 |
| ZB-250 | 250 | 125-750 |
| ZB-315 | 315 | 150-900 |
| ZB-500 | 500 | 250-1500 |
| ZB-800 | 800 | 400-2400 |
| ZB-1200 | 1200 | 600-3600 |
| ZB-2500 | 2500 | 1300-7500 |
| ZB-3200 | 3200 | 1600-9600 |
| ZB-6200 | 6200 | 3000-18000 |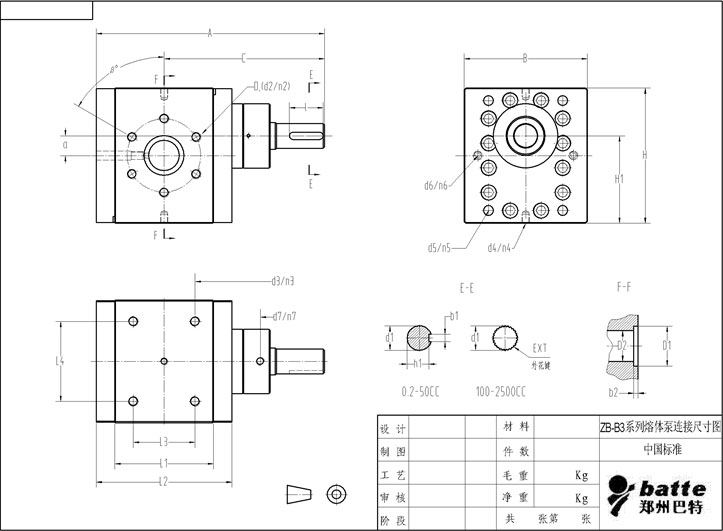 ZB-B standard extrusion melt pump.pdf