Extrusion manual screen changer.pdf
ZB-MSPG manual screen changer introduction:
The MSC manual slide plate screen changer offers an economical, efficient way for plastics processors to filter contaminants from polymer flows. The manual screen changer can be used to filter almost any type of thermoplastic material. Utilizing pressure activated seal technology. The extrusion manual screen changer remains leak free under extrusion pressure yet is easily shifted when the pressure is removed. The MSC is shipped fully assembled requiring minimal downtime to install.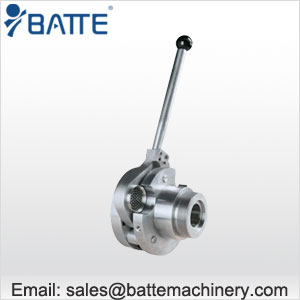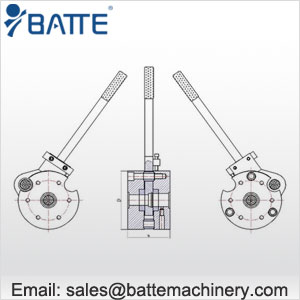 ZB-MSPG manual screen changer properties:
Contaminants in the polymer melt, which caused by metal, wood, paper or internally generated black specks, makes products be unacceptable in appearance and performance. Manual screen changers are the most suitable option for processes that require infrequent changes. Manual screen changers minimize costly downtime for screen replacement. With a simple swing of the handle lever during routine shutdown, clean screens are quickly brought on-line. No line disconnection occurs, and full production is re-established.
The extrusion manual screen changer is ideally suited in applications where process shutdowns occur and there is no loss of production directly related to the screen change itself. It has significant advantages over stationary screen pack breaker plates that can only be changed by machine disassembly.
ZB-MSPG extrusion manual screen changer features and advantages:
◆ Easier installation and easier operation.
◆ The operation handle can be adjusted according to the workshop position.
◆ With its unique rigid material or compensation sealing design, the service life is long.
◆ The position is precise during screen changing.
◆ It is applicable for 90 mm extruder or less than 90 mm extruder plant
ZB-MSPG manual screen changer for extrusion applications:
◆ Blown Film
◆ Pipe/Profile
◆ Compounding
◆ Coextruded Sheet/Film
◆ Wire and Cable
◆ Sheet and Cast Film
Increase end-product quality and consistency, reduce scrap and achieve operating cost savings, especially when processing high recycled content polymers. Filters melt filtration systems have provided worry-free contamination protection for compounding, pipe and profile, plastic film and sheet and specialty extrusion applications.
Slide plate manual screen changers provide a cost effective filtration solution for the polymer extrusion industry. Put a melt pump after the screen changer can further increase the productivity of the extrusion line. Melt filtration systems and screen changers ensure a perfect filtration process, guaranteeing your desired melt quality.
ZB-MSPG extrusion manual screen changer technical data:
Type

Output

Kg/h

Size (mm)

Screen size

Heating tube

L1

L2

Ф(mm)

cm2

V

W

ZB-MSPG-40

30~60

140

200

Ф50

20

230/380

1700

ZB-MSPG-50

35~70

150

200

Ф50

20

230/380

1700

ZB-MSPG-60

60~180

170

255

Ф60

28

230/380

2500

ZB-MSPG-70

80~180

170

255

Ф70

38

230/380

2500

ZB-MSPG-80

100~180

175

300

Ф90

64

230/380

2500

ZB-MSPG-90

110~180

175

300

Ф90

64

230/380

3000

ZB-MSPG-100

120~230

180

320

Ф100

78

230/380

4200
Type

Output

Kg/h

Size (mm)

L1

L2

ZB-MSPG-40

30~60

140

200

ZB-MSPG-50

35~70

150

200

ZB-MSPG-60

60~180

170

255

ZB-MSPG-70

80~180

170

255

ZB-MSPG-80

100~180

175

300

ZB-MSPG-90

110~180

175

300

ZB-MSPG-100

120~230

180

320

Extrusion manual screen changer.pdf