Automatic belt screen changer.pdf
Automatic belt screen changer introduction:
Automatic belt screen changer is designed to be used in every segment of plastics processing including blown & cast film, blow molding, sheet, film extrusion, compounding, etc. Automatic screen changer extrusion is fully automatic screen filters for production lines.
◆ Automatic screen changer consists of screen changer main body, heating or cooling system, electrical control system, etc.
◆ The system control components can automatically governs the filtering time and screen moving speed.
◆ The screen changing is fully automatic and continuous.
◆ The material flowing does not have pulsation, the product shape does not change, and the quality is good during screen changing.
◆ There is no waste or scrap during whole production. The energy consumption is less.
◆ The filter length can be customized between 10 and 20 m. Moreover, the filter can be used continuously for 2 or 6 months.
◆ It is applicable for plastic polymer material, such as PP, PE, ABS, PS, PET, etc.
Automatic screen changer extrusion applications:
◆ Blown & cast film
◆ Sheet
◆ Compounding
◆ Pipe
◆ Tubing
◆ Profile
◆ Multi-layer extrusion
Automatic belt screen changer pictures, drawing, and technical data: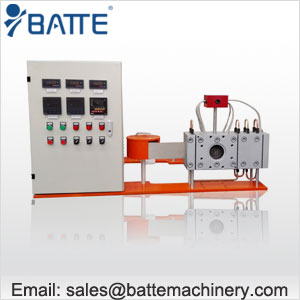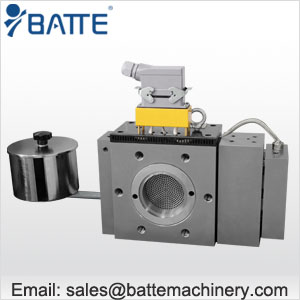 Type

Output

Kg/h

Size (mm)

Screen size

Heating tube

L1

L2

L3

Ф(mm)

cm2

V

W

ZB-ACB-50

30~85

150

165

540

Ф50

20

230/400

5200

ZB-ACB-70

75~200

160

170

560

Ф70

38

230/400

5400

ZB-ACB-90

100~290

170

185

580

Ф90

64

230/400

5800

ZB-ACB-100

130~350

180

215

605

Ф100

78

230/400

6200

ZB-ACB-120

190~500

185

230

645

Ф120

113

230/400

6500

ZB-ACB-150

350~800

200

265

700

Ф150

176

230/400

7200

ZB-ACB-180

450~1200

220

305

760

Ф180

254

230/400

8200
Type

Output

Kg/h

Size (mm)

L1

L2

L3

ZB-ACB-50

30~85

150

165

540

ZB-ACB-70

75~200

160

170

560

ZB-ACB-90

100~290

170

185

580

ZB-ACB-100

130~350

180

215

605

ZB-ACB-120

190~500

185

230

645

ZB-ACB-150

350~800

200

265

700

ZB-ACB-180

450~1200

220

305

760

Automatic belt screen changer.pdf