ZB-H high temperature & high pressure extruder pump

ZB-H high temperature & high pressure extruder pump.pdf
ZB-H high temperature & high pressure extruder pump applications:
ZB-H high temperature & high pressure extruder pump is applicable for engineering plastic or blown film technique. This series of high temperature melt pump is suitable for high temperature and high pressure conditions, and used for transportation, pressurization or the metering of the high temperature and high viscosity polymer melt.
High pressure extruder pump have a unique positive displacement design which provides consistent, accurate polymer delivery under varying extruder output conditions of pressure, temperature and viscosity. With melt pump providing the pressure between the extruder and the die, extruder parameters can be configured to provide a homogeneous melt at increased throughout and tighter gauge tolerances.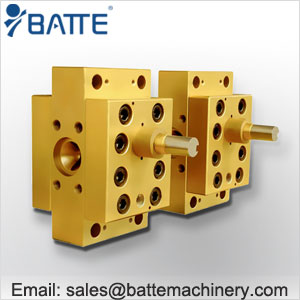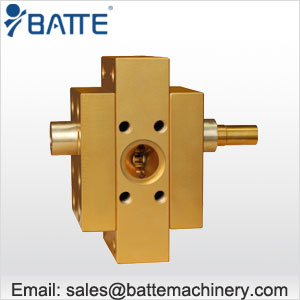 Application of High temperature melt pump:
◆Polymer extrusion molding, such as granulation, film, pipe, plate, sheet, etc;
◆High-viscosity materials such as PC, PMMA, ABS, HIPS, PET, PVB, PS, PP, PA, PE, PVA .etc;
◆Rubber, asphalt, paint, adhesives, coatings, lubricants, polyalcohol, non-particulate impurities;
◆Polyester for cotton-fiber, polypropylene and other chemical fiber melt.
Technical Parameter of High pressure extruder pump:
◆ Material for Gear Pumps Body: CPM Tool Steel or Titanium Tantalum Alloy
◆ Material for Gear: CPM tool steel, titanium tantalum alloy, special materials or abrasion resistant coating
◆ Material for Sliding Bearing: CPM tool steel, titanium tantalum alloy, special materials or abrasion resistant coating
◆ Shaft Sealing: Spiral Sealing
◆ Heating System: Electrical Heating

Operating Parameter of High temperature melt pump:
◆Theory: Positive Displacement Gear Pump
◆Structure: Gear Pump
◆Usage: Plastic, Rubber Pump and Fiber
◆Power: Electric or Oil
◆Fuel: No Need
◆Volume Range: 5CC - 3200CC
◆Viscosity: ≤20000 Pas
◆Working Temperature: ≤510°C(950°F)
◆Cleaning Temperature: ≤590°C(1100°F)
◆Inlet Pressure: ≤20MPa
◆Outlet Pressure:≤70Mpa
◆Differential Pressure: ≤50Mpa
◆ Model/Flow Range: 5CC - 2500CC, 5cm3/rev - 2500cm3/rev
Pump Model

Pump Volume (CC)

Capacity (L/H)

Driven Power (kw)

Heating Power (kw)

Working Temperature

Working Pressure

ZB-0.1

0.1

0.05-0.2

0.2

1

≤400℃(750°F)

Outlet Pressure: ≤ 350Mpa

Outlet Differential Pressure: ≤ 275bar

ZB-0.5

0.5

0.25-1

0.37

1

ZB-1

1

0.5-2

0.55

1

ZB-2

2

1-4

0.75

1

ZB-5

5

2.5-10

1.1

2

ZB-10

10

5-20

1.5

2

ZB-20

20

10-40

2.2

2

ZB-31.5

32

16-60

3

2

ZB-50

50

25-100

4

3

ZB-100

100

50-200

5.5

4

ZB-150

150

75-300

7.5

5

ZB-90/90

200

100-400

11

6

ZB-100/100

250

125-500

15

8

ZB-100/100

315

150-300

18.5

8

ZB-115/115

500

200-1000

22

12

ZB-130/130

800

400-1600

30

15

ZB-160/160

1200

600-2400

37

20

ZB-180/160

2500

1250-5000

55

20

ZB-180/180

3200

1600-6400

55

24

ZB-224/224

6000

3000-6000

75

30
| | | | |
| --- | --- | --- | --- |
| Pump Model | Pump Volume (CC) | Capacity (L/H) | Driven Power (kw) |
| ZB-0.1 | 0.1 | 0.05-0.2 | 0.2 |
| ZB-0.5 | 0.5 | 0.25-1 | 0.37 |
| ZB-1 | 1 | 0.5-2 | 0.55 |
| ZB-2 | 2 | 1-4 | 0.75 |
| ZB-5 | 5 | 2.5-10 | 1.1 |
| ZB-10 | 10 | 5-20 | 1.5 |
| ZB-20 | 20 | 10-40 | 2.2 |
| ZB-31.5 | 32 | 16-60 | 3 |
| ZB-50 | 50 | 25-100 | 4 |
| ZB-100 | 100 | 50-200 | 5.5 |
| ZB-150 | 150 | 75-300 | 7.5 |
| ZB-90/90 | 200 | 100-400 | 11 |
| ZB-100/100 | 250 | 125-500 | 15 |
| ZB-100/100 | 315 | 150-300 | 18.5 |
| ZB-115/115 | 500 | 200-1000 | 22 |
| ZB-130/130 | 800 | 400-1600 | 30 |
| ZB-160/160 | 1200 | 600-2400 | 37 |
| ZB-180/160 | 2500 | 1250-5000 | 55 |
| ZB-180/180 | 3200 | 1600-6400 | 55 |
| ZB-224/224 | 6000 | 3000-6000 | 75 |

ZB-H high temperature & high pressure extruder pump.pdf
Inquiry Us
Melt pump is your extruder's best friend