continuous hydraulic screen changr for processing multiple polymers
During the polymer extrusion process, the polymer melt is plasticized and heated for a long time, resulting in residues in the plastic melt and some impurities in the raw material, which will enter the subsequent extrusion die and cause blockage of the flow channel and defects in the quality of the product. In order to eliminate these effects and ensure that the pure plastic melt enters the mold, it is necessary to add a melt screen filter between the screw extruder and the mold to filter the impurities in the plastic melt and effectively guarantee the quality of the final product. It is widely used in the extrusion process, the production process is continuous and uninterrupted, and 75% of the filter area is available for production during backflush and screen change,It has the advantage of high pressure resistance and no pressure fluctuation during screen change.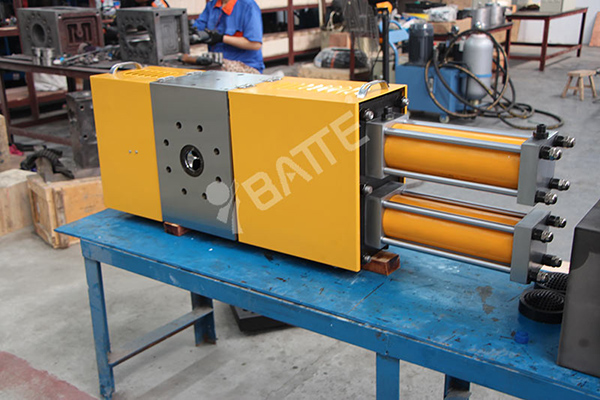 Gentle handling of the melt is essential to optimize the polymer production process. Our melt pumps significantly improve productivity, efficiency and operational reliability for both low and high viscosity applications. We respond to increasing quality demands by using high performance large area filters or extrusion screen changers with filter columns. Our underwater pelletizer systems produce up to 36,000 kg/h, while our drawbar pelletizers produce up to 16,000 kg/h. Hydraulic screen changers for processing multiple polymers can be installed on extruders, melt pumps, reactors or other extrusion lines to filter any type of polymer, rubber or ceramic melt, increasing production efficiency and improving product quality.
Email: info@battemachinery.com
Whatsapp: +86 158 38331071