Transparent material melt pump is mainly used for smooth pressurized transportation of medium and high viscosity media in polymer flow layer. Suitable for PS, PP, PVC, PC, PMMA, etc. transparent material or heat sensitive material process.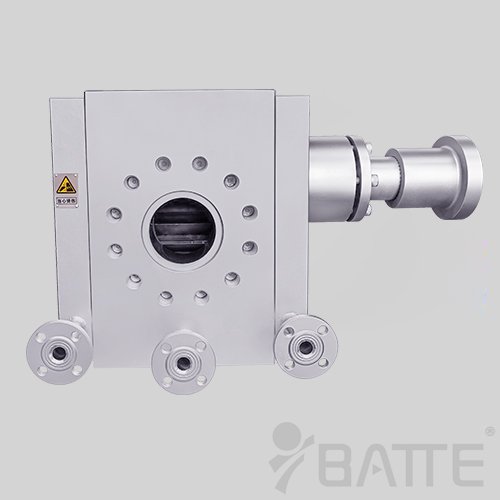 The main features of transparent melt pumps are as follows:
1/It can be used in high temperature (350 C) and high pressure (35MPa) and high viscosity (20,000 Pa s).
2. The design of import and export bell mouth can avoid dead angle in the runner to a great extent, reduce material residue and improve product quality.
3. The improved gear parameter design makes the output pressure more stable, reduces the temperature rise, and is suitable for precision extrusion.
4. Use special materials and wear-resistant coatings, with high finish, good wear resistance and long service life.
5. High precision mechanical seal.
6. Suitable installation mode can be provided according to different site conditions of customers, which is more flexible and practical.
Transport medium viscosity: 200-20000Pa s (2,000-20,000,000 cP)
Inlet pressure 0-30 MPa
Export pressure 0-40 MPa
Larger pressure difference 25MPa
Use temperature < 350 C